ECS Houses. Shops
From TTWiki
Jump to navigation
Jump to search
Valid for ECS 1.2
Shops are special houses to accept large amounts of Passengers, Food, Goods and even Building materials cargoes if defined.
Drawn by George.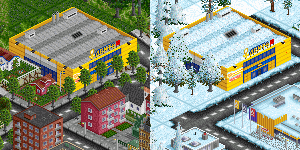 Available
Eras 3-4 or in 2000 - ... (if eras are off).
Town zones: 0-4.
No shop 9 squares around allowed.
1 per ??? citizens.
Maximum ??? per town.
Acceptance
Accepts Passengers, Food, Goods and Building materials.
Cargo generation
??? passengers a month.
Features
??? rating required for removal.
Minimal age before removal - ??? years.
Supports snow.