ECS Houses. Post offices
From TTWiki
Jump to navigation
Jump to search
Post offices are special houses to accept and produce mail
2x1 Post office
Drawn by Zimmlock, improved by George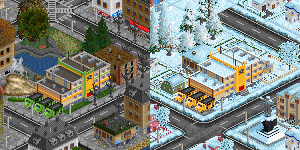 Available
Eras 1-4 or in 1920 - ... (if eras are off).
Town zones: 1-4.
A road at SW required.
5 houses in town required.
No post office 5 squares around allowed.
1 per 2048 citizens in case there is no post office in town.
Maximum 10 per town.
Acceptance
Accepts mail, 6/8 passengers.
Cargo generation
32 passengers and Town's population / (post office tiles in town * houses in town * 2) mail a month.
Features
250 rating required for removal.
The last one in the town is protected.
Minimal age before removal - 15 years.
Supports snow.
Supports company colours.