Dutch Trainset
From TTWiki
Dutch Sets
Rail sets
Other sets
Deprecated sets

Dutch Trainset 1



Note
This page is about the first Dutch Trainset. If you're playing OpenTTD and are looking for downloads, we recommend you to try the successor to this,
Dutch Trainset 2
.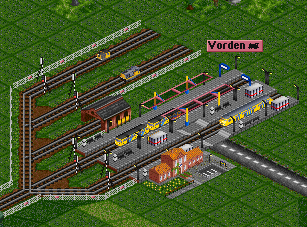 The Dutch Trainset contains both old and new trains used in The Netherlands. On 01-03-2009 the first Dutch Trainset was released. On 20-07-2011 FooBar released an extension for the OpenTTD version of the train set, adding refit options for cargoes from industry sets.
Downloads
The .GRF-file can be downloaded for manual installation via the DevZone. OpenTTD users can still obtain version 1 of the trainset via the ingame Online Content.
Vehicles
We spent some time choosing locomotives, EMU's, DMU's and wagons to include in the Dutch Trainset. At first we listed them in a handy Excel spreadsheet which we named the Dutch Trainset Infosheet.xls and when the original website was launched in early 2005 we decided to add the same overview on the website. It additionally provides all kind of useful information like images, technical data and (when available) a preview image of the vehicle in TTD.

Click one one of the station signs below to visit a gallery with detailed information.
Screenshots
Screenshots are available on a separate page.
Authors
The following people contributed to the original Dutch Trainset:
| | |
| --- | --- |
| Bastiaan | Graphics, data supply |
| broodje | Data supply |
| Hyronymus | project co-ordinator, data supply, Webmaster |
| Purno | Graphics, data supply, Main Coder |
| Snail | Graphics (Steamers) |
| Wile E. Coyote | Graphics (Wagons) |
| Lobster | Tester |
| XeryusTC | Tester (Multiplayer) |
| BlueEagle_nl | Bugfixing Coder, Data Supply, Webdeveloper |
Links