TT Meet 2013
From TTWiki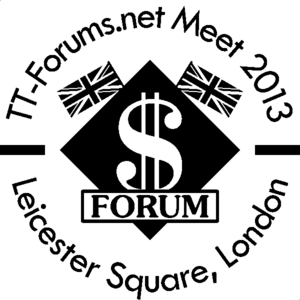 Introduction
The 2013 UK Transport Tycoon Forums meet is planned to take place in London on the 28th July (a Sunday this year, rather than the Saturdays of old). We will initially be congregating at a Wetherspoons pub, The Moon Under Water, at Leicester Square for drinks and lunch. Plans for the rest of the day are still to be finalised. See below for further details on the venue, activities, and getting around London.
As with previous years, we will not be able to accept responsibility for under-18s at the meet, so we respectfully ask that you do not attend if you are under 18 unless you are accompanied by a parent or guardian. As our initial venue is a public house, please be aware that entrance or service may be refused to under-18s. If this happens, I'm afraid we can't do anything to help you out.
Attendance
I'm coming!
Post your name/nick here if you're coming.
I'm pretty sure I'm coming!
If you're not that sure whether or not you'll be able to make it, but you want to make the effort, post your name/nick here
I'll be nearby and could show up
For those who could pop in on the way from one place to another. Perhaps after a wedding...
SkeedR - I'm in Kent the friday/saturday before and might be able to make it if I can get the monday off.
jvassie - I live in London, might pop by for a couple of hours
Cannot attend
If you previously thought you were going to be able to attend, but now can't, post your name/nick here
Travelling
Let us know how and when you're getting to the meet. This way, we will be able to know when people are arriving, and can let people know if they're likely to be travelling together or meeting each other at a station. Please try to keep all entries in time order!
There
orudge - Flying from Aberdeen, Tube to Leicester Square - should be arriving at the pub around 11:00 - 11:30
47407 Train from Croydon. Should arrive by 11 as working Saturday.
Geo Ghost Train from St. Evenage down to London. Easy.
Chris Most likely will be at parents' house, so the Met from Amersham.
JamieLei - train from Birmingham in the morning.
Welshdragon - Train from Oxford, or a coach.
SkeedR - Current idea/plan: Driving from Brentwood to St Albans, train to Kings Cross, tube to Leicester Square.
DarkUK - Train from Slough to Paddington, tube to Leicester Square.
TomS - Tube from Ealing
M3henry - Bike to a friend's dig in Cheshunt, train to Tottenham Hale then tube to Leicester Square.
lolman - I'll probably be in London overnight, so Tube to Leicester Square.
JGR - Will be in London for the weekend, so tube, or bike if I bring that along.
47434. Megabus from Huddersfield to London Victoria Coach Station- Scheduled to arrive approx. 1030.
jvassie - Overground to Canada Water, Jubilee to Green Park, Picadilly to Leicester Square
Dave - Northern Line is fugged so replacement bus to Arnos Grove and Piccadilly Line straight in.
Back
orudge - Flying back on Monday morning
47407 Return as above.
Geo Ghost Train from London back to St. Evenage.
Chris As above
SkeedR - Current idea/plan: Train/tube to St Albans, drive to Wolverhampton.
DarkUK-Tube to Paddington, Train back to Slough on the same day.
TomS - Tube to Ealing
M3henry - Tube to Tottenham Hale, train back to friend's house and bike back to Cambridge. (£15 for the whole journey really can't be beaten)
lolman Train to Newcastle
47434. MegabusPlus leaving St. Pancake on a HST at 2040 for East Mids Parkway- bit quicker than the journey down despite being £4 cheaper!
jvassie - Picadilly to Green Park, Jubilee to Canada Water, Overground to Forest Hill
Dave... Shan't be leaving.
Travel around London
Travelcards are the best way to go around London at £8.90 (Absolutely sodding extortionate! Only yesterday it was £7.50!), and allows unlimited rides on Tubey-thingys, big red double deck boxes and huge long rail-riding thingys around this massive expanse of office blocks. Or basically anywhere on -> [1] <- this map. Added by 47 407 (talk) 20:58, 2 June 2013 (UTC)
Overnight in London
The following people will/may be staying in or near London over the weekend:
orudge - Staying the night in London (probably at a Travelodge near Heathrow Airport - £21 can't be knocked!)
lolman - Staying Saturday night in London. Not sure where exactly yet, need to look up hotels.
JGR - Staying in London Saturday and maybe Friday night.
Activities
Socialising!
The main focus of the meet is to get to know each other, enjoy a few pints, eat burgers, and have a laugh! While you're welcome to bring your laptop to play a game of OpenTTD or similar, you'll probably find that most people won't have gone to the trouble of doing so.
Other activities
Still to be finalised. If you have any suggestions, please post them!
External links